ACCOMMODATION IN A 5***** HOTEL
ACCOMMODATION IN A 5***** HOTEL
ACCOMMODATION IN A 5***** HOTEL

Description:
This modern five star hotel is mainly aimed at international tourists, although anyone is welcome, and provides a great base from which you can enjoy and explore the French Riviera. In this hotel you will find:
225 rooms including 19 suites and an executive floor.
600 m2 of conference rooms.
2 restaurants and a piano bar.
A nearby private beach with restaurant.
Wi-Fi hotspots and a business centre.
A fitness centre including a spa, a heated pool, a sauna and a high tech gym.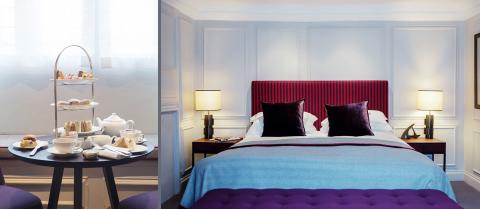 The Ambassadeur Hotel ***** Juan-les-Pins
Room service
Air conditioning
TV
Telephone
Housekeeping
The hotel is located in the heart of Juan-Les-Pins. It is only:
5 minutes from the Pine Forest, famous for its jazz concerts.
100 metres from the sandy beaches
1 km from the centre of Antibes
25 km from Nice Côte d'Azur airport A free transfer is organised every day to take you from the hotel to our Fench language school.
All Year Round (Availability upon request)
Price per night and per single room : Upon request depending on the dates of the booking
good_know
Visitor's tax: 1.3 €/day/person
meals
Breakfast is not included (buffet: 22€).
After class, lunch is available at the school's self-service restaurant, "Le Prévert" (5 to 9€ per meal) or at "Le Latino" restaurant which is 70 metres from the Port school (10 to 13€ for the dish of the day).
At dinner time, Antibes/Juan les Pins have all types of restaurants, from the cheap and cheerful to a gastronomic delight!
There are several restaurants at the hotel including one on its private beach.
disposal
3 restaurants and a piano bar
Room service
Relaxation area (heated swimming pool, sauna, fitness centre)
Outdoor swimming pool
Parking
Private beach with restaurant
Business centre with internet access
Services
All the facilities you would expect at a luxury hotel.