ARAGON RESIDENCE
ARAGON RESIDENCE

Description:
You will find on this residence:
Brand new studios which are fully equiped.
28 rooms (10-20 m²) at the ground floor with private bathroom
A nice garden surrounding the residence and available for our students.
Private parking (with a fee)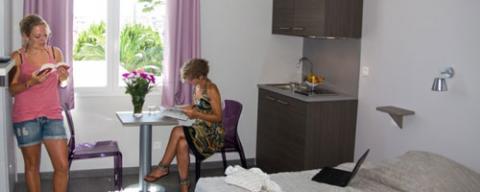 Studios
Equipped kitchenette
Air conditioning
TV
900 m away from the centre Antibes
1,8 km away from the beaches of Antibes
600 m from the sandy beaches of Juan-les-Pins
1,2 km away the train station of from Antibes
25 km from Nice Côte d'Azur airport
Residence
Seasons
04.01 - 21.03 & 11.10 - 19.12
22.03 - 27.06 & 23.08 - 10.10
28.06 - 22.08

Studios

Single
Extra day

280 €
40 €
420 €
60 €
740 €
106 €
Double
Extra day
140 €
20 €
210 €
30 €
370 €
53 €
meals
There are kitchenettes in the studios of Castel Arabel (high) , Aragon and Garret..
There is an equipped shared kitchen that long term students staying at Castel Arabel may use.
The school's self-service restaurant is open Monday to Friday (breakfast 4 €, lunch 5 to 9€).
Drink and snack machines can be found on the premises.
For dinner, Antibes/Juan les Pins has all types of restaurants, from the cheap and cheerful to to a gastronomic delight!
Services
Free:
Sheets: provided and changed weekly
Iron and ironing board at your disposal
Message taking service
Postal service
Luggage service
Payable:
Guests (prior booking): 80 €
Cleaning: 50 €
Internet access: 5 €/week
Fax sending: Europe : 3€/page - Outside Europe : 6€/page
Washing machine and dryer : 4€ and 1€
good_know
Cleaning: The Castel Arabel residence is a self-catering resort rather than a hotel.
Students must keep the bedrooms clean (the studios must be clean at the end of the students' stay).
Towels: Towels are not provided.
Arrival: Opening hours are between 11:30 and 19:30 on Sundays.
If students arrive before or after opening hours then we advise booking a transfer from Nice airport or Antibes station.
Our emergency number is +33 (0)4 92 90 71 70
Deposit: We request a deposit of 200€ on arrival. This deposit is returned at the end of your stay but any damage, missing items or cleaning charges will be deducted.
Visitor's tax: 1 €/person/night for medium standard and 1€/person/night for high standard.
directions
Address: 28, avenue du Chateau 06600 Antibes
Tel: +33 (0)4 93 33 83 51
On Sundays between 11.30am and 7:30pm, Emergency number
+33 (0)4 92 90 71 70
Fax: +33 (0)4 93 74 57 11
disposal
Self-service restaurant (open at midday during the week)
Internet cafe
Library
Solarium
Launderette
A public phone box (phone cards)
Allocation
We cannot under any circumstances guarantee the allocation of a studio or room in a particular residence, whatever your registration date.
However, please fell free to specify your preferences and we will do our very best to satisfy you. Generally we do.