Castel Arabel residence
Castel Arabel residence

Description:
Castel Arabel, high and medium residence, is found on a single complex that is reserved exclusivly for students of the Centre International d'Antibes.
Castel Arabel high standard Provencal residence, which contrasts to the Moorish style of the medium standard Castel Arabel.
These two residences share the following amenities:
A swimming pool with sun terrace.
A Café bar.
A games room, a table tennis tables, an American pool table, a TV and DVD, as well as food and drinks vending machines.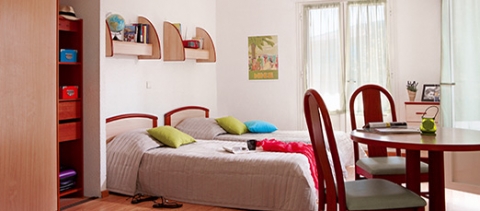 Studios
Equipped kitchenette
Air conditioning
TV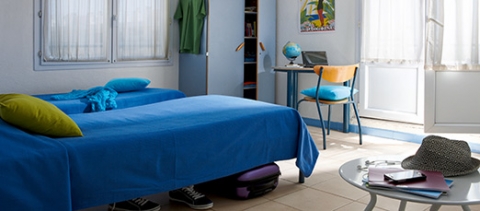 Standard rooms & student
Equipped shared kitchen
Fan
TV room on the premises
The Castel Arabel complex is Located in a quiet setting between Antibes and Juan-les-Pins. It is only:
At 15 min walk from our school 'Le Chateau'
600 m from Juan-les-Pins beach (a 7 min walk)
450 m from Juan-les-Pins centre (a 3 min walk)
2 km from Antibes centre(a 20 min walk)
25 km from Nice Côte d'Azur airport
Standard
Seasons
04.01 - 21.03 & 11.10 - 19.12
22.03 - 27.06 & 23.08 - 10.10
28.06 - 22.08

Studios

Single
Extra day
280€
40€
420€
60€
740€
106€
Double
Extra day
140€
20€
210€
30€
370€
53€

Standard room

Single
Extra day

210€
30€

280€
40€

525€
75€

Double
Extra day

105€
15€

140€
20€

263€
38€

Student residence

Single
Extra day

140€
20€

210€
30€

350€
50€

Double
Extra day

70€
10€

105€
15€

175€
25€
meals
There are kitchenettes in the studios of Castel Arabel (high) , Aragon and Garret..
There is an equipped shared kitchen that long term students staying at Castel Arabel may use.
The school's self-service restaurant is open Monday to Friday (breakfast 4 €, lunch 5 to 9€).
Drink and snack machines can be found on the premises.
For dinner, Antibes/Juan les Pins has all types of restaurants, from the cheap and cheerful to to a gastronomic delight!
Services
Free:
Sheets: provided and changed weekly
Iron and ironing board at your disposal
Message taking service
Postal service
Luggage service
Payable:
Guests (prior booking): 80 €
Cleaning: 50 €
Internet access: 5 €/week
Fax sending: Europe : 3€/page - Outside Europe : 6€/page
Washing machine and dryer : 4€ and 1€
good_know
Cleaning: The Castel Arabel residence is a self-catering resort rather than a hotel.
Students must keep the bedrooms clean (the studios must be clean at the end of the students' stay).
Towels: Towels are not provided.
Arrival: Opening hours are between 11:30 and 19:30 on Sundays.
If students arrive before or after opening hours then we advise booking a transfer from Nice airport or Antibes station.
Our emergency number is +33 (0)4 92 90 71 70
Deposit: We request a deposit of 200€ on arrival. This deposit is returned at the end of your stay but any damage, missing items or cleaning charges will be deducted.
Visitor's tax: 1 €/person/night for medium standard and 1€/person/night for high standard.
directions
Address: 28, avenue du Chateau 06600 Antibes
Tel: +33 (0)4 93 33 83 51
On Sundays between 11.30am and 7:30pm, Emergency number
+33 (0)4 92 90 71 70
Fax: +33 (0)4 93 74 57 11
disposal
Self-service restaurant (open at midday during the week)
Internet cafe
Library
Solarium
Launderette
A public phone box (phone cards)
Allocation
We cannot under any circumstances guarantee the allocation of a studio or room in a particular residence, whatever your registration date.
However, please fell free to specify your preferences and we will do our very best to satisfy you. Generally we do.