Our French Language Schools
Our French Language Schools

Our main school 'Le Chateau' is a large and spacious house surrounded by gardens. From its open air terrace, you will discover a wonderful view over the harbour and the 'Baie des Anges' (Bay of Angels).
The school is quiet and calm but only a few minutes walk from the centre of Antibes. All our classrooms are well lit and equipped with modern technology. We also have four outdoor classrooms so you can make the most of the wonderful climate of the Côte d'Azur while learning French.
'Le chateau' is open all year round.

During July and August, students also have the use of 17 classrooms at the Mont Saint Jean school located next door.
17 classrooms and 4 outdoor classrooms
Self-service restaurant
Cyber space
Library
Sun terrace
Internet access
Self service restaurant
Public phone
Fax delivery
Refreshments: food and drink vending machines
'Le Port' school is nestled behind the ramparts of the old port of Antibes on a picturesque, pedestrian street in the historic centre. The French language school overlooks the old port in the foreground with its collection of luxury yachts, the famous Fort Carré, and the renowned 'baie des Anges' (Bay of Angels) further in the distance towards the Alps.
Our 'Le Port' school is mainly used for special groups or during the busy summer period.
Fax delivery (3€/page for European destinations and 6€/page for destinations outside Europe )
Refrigerator
Microwave
Drinks machines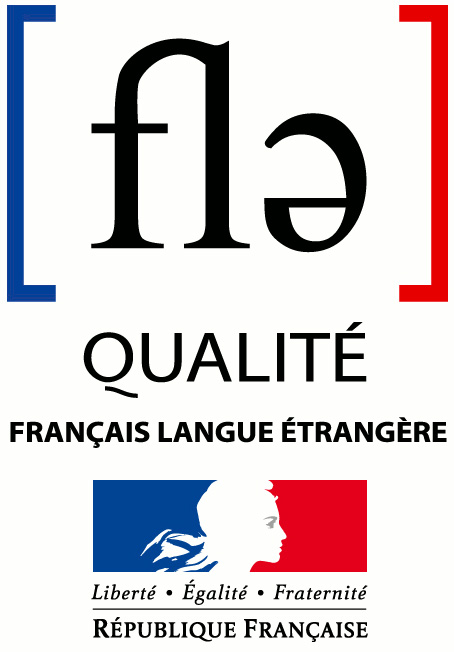 The Centre International d'Antibes has received the Label Qualité Français Langue Etrangère:
"From this year on, the State is committed to quality control in schools teaching French as a Foreign Language in France.
Over 100 000 people come to France every year to study French. Over 300 schools either public, private or non-profitable, offer their services.
This is why the Ministries of Higher Education and Research, of Foreign and European affairs and of Culture and Communication have decided to put a quality control system into place for schools teaching French as a foreign language on French soil.
Consequently, a 'label' entitled « Qualité Français Langue Etrangère » was created.
Thanks to this system, the authorities can identify, recognise and promote language training providers who offer language courses and services that meet the required standards in quality.
The International Centre for Teaching Studies (CIEP), a state-owned administrative body of the Ministry of National Education, is responsible for implementing this quality control system.
For more detailed information, visit the link: www.ciep.fr/qualitefle .
Souffle has a very strict quality charter to which all French as a Foreign Language schools (FLE) must adhere. Centre International d'Antibes is a member of Souffle.