Teaching And Learning Methods
Teaching And Learning Methods
Teaching and learning methods

From your first day, every student will receive the highest standard of support from our friendly and professional teaching staff, who will be there to assist you throughout your stay.
The teaching staff at the CIA are all highly experienced and specialised in teaching French as a foreign language. All possess the required academic qualifications to ensure the highest standard of teaching.
In addition, the teaching staff are skilled in creating an atmosphere conducive to learning, both actively encouraging and motivating their students, giving them the confidence to speak out loud.

This environment allows each student to progress at their own rate in a friendly and captivating atmosphere.

Depending on the course chosen and the level of written and oral communication of each student, our staff will build a structured and progressive set of French lessons which are of interest to each pupil. This style of teaching allows students to improve their ability to understand others and to express themselves in French.
Adapted and modern teaching material
The school is well-equipped with all the audio-visual equipment necessary: televisions, VCRs, tape-recorders and video-recorders.
A media library houses several hundred documents.
A library is also at our students disposal.
Appropriate pedagogical documents
The books used during lessons are directly aimed at teaching French as a foreign language. Each student also receives a grammar book - written and designed by the CIA's teaching staff exclusively for our students.
Teaching material mainly consists of a range of 'real life' documents, such as: newspaper articles, audio and video tapes, adverts, photographs, paintings from all ages, cartoons, film clips, novels and French songs.
Students will regularly use the internet during lessons, where they will have the opportunity to consult francophone websites.
Personalised evaluation of your progress
At the Centre International d'Antibes class sizes are small. This ensures that each member of staff can devote a maximum of attention to every student, irrespective of the length of course they have chosen.
Every four weeks each student is given an overall evaluation, consisting of constructive advice to help them progress further.
For those students enrolled in a DELF or 'Alliance Française' exam prepapration courses, a mock exam is held approximately every 3 weeks under 'exam conditions'. These allow a regular update on each student's progress.
At the end of their stay students are also asked to evaluate their time spent at the CIA, by rating their satisfaction of the courses, the accommodation, the meals, the excursions and the teaching. These valuable comments help us to maintain the high stan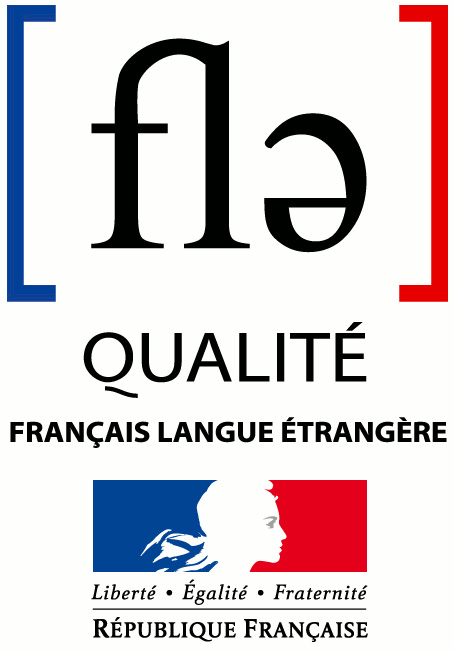 The Centre International d'Antibes has received the Label Qualité Français Langue Etrangère:
"From this year on, the State is committed to quality control in schools teaching French as a Foreign Language in France.
Over 100 000 people come to France every year to study French. Over 300 schools either public, private or non-profitable, offer their services.
This is why the Ministries of Higher Education and Research, of Foreign and European affairs and of Culture and Communication have decided to put a quality control system into place for schools teaching French as a foreign language on French soil.
Consequently, a 'label' entitled « Qualité Français Langue Etrangère » was created.
Thanks to this system, the authorities can identify, recognise and promote language training providers who offer language courses and services that meet the required standards in quality.
The International Centre for Teaching Studies (CIEP), a state-owned administrative body of the Ministry of National Education, is responsible for implementing this quality control system.
For more detailed information, visit the link: www.ciep.fr/qualitefle ".
Souffle has a very strict quality charter to which all French as a Foreign Language schools (FLE) must adhere. Centre International d'Antibes is a member of Souffle.